First of all we would like to thank everyone that stopped by our booth at the Shot Show a few weeks ago. This was our first time as exhibitor and the result is far better than we ever could expect. We could not ask for a better reply from all of our visitors. A very hectic but fun week!
After this week of success we feel more motivated than ever to develop and making new products that will benefit our customers. In fact, that is what we do. We develop our own products in a different way than other competitors and we always like to go outside the box. Our team has a strong expertise in developing shooting range equipments and we are very passionate about it. As a smaller company we have the ability to make fast changes on unique Shooting Range projects for our clients.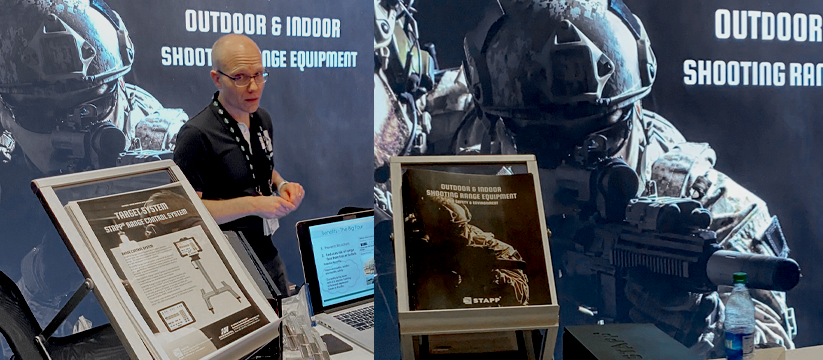 All of our visitors appreciated the mix of having an environmentally friendly way of thinking but at the same time focus on Safety and the total cost over time. That confirmation is what STAPP is about.
The reaction from our visitors when talking about our patented indoor bullet trap was very positive. This totally changes the way our potential customers is thinking when upgrading or building a new shooting range. Today there are a few options of bullet traps that has been used for many years and we know both the benefits and the negative aspects on them all.
So what did we do? We listened to our customers and developed the STAPP PURe, the worlds first vertical granular trap. The mix of having rubber for indoor shooting ranges but without the negative property of having a slope with increased depth was a great success at the Shot Show. Our standard depth is approximately 1m or 3,5feet which fits in almost every building.
I am also very glad that so many visitors saw the potential of changing their old dirt berms to our STAPP outdoor bullet trap. We can clearly see that the market is changing and the environmentally way of thinking even for Shooting Ranges has rapidly started to change in a positive way.
We all know that we need to look forward and create an environment for our children that we can be proud of.
At last we would like to share that we will during this year announce our new products that will most likely to be of interest to all shooting ranges both indoor and outdoor.
Thank you!
Marcus Moberg Velin, CEO STAPP